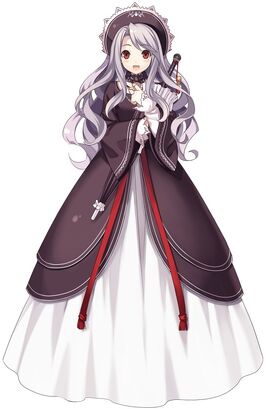 Joins at: Chapter 3 Kanata's Route, Chapter 11 Rizelea's Route
Personal Info
Move AP Cost

8 AP

8 AP
14 AP
EX Skill
Netherworld Gate
80 Hits
Pamela's super attack where she and the Prinnies agree to cooperate. Is it powerful? Do they sync powers?
Special Attacks
Wraith Claws
8 Hits
Pamela's unique move. She attacks with her invisible powers.
Richie Wrath
8 Hits
Pamela's unique move. She and her friends attack the enemy together.
Inferno Battle
11 Hits
Pamela's unique move. A haunting collaboration between Pamela and her ghostly friends.
Special Abilities
Levitation
DEF and SPD will always increase
Just Curious
At night, the probability of inflicting poison or paralysis will increase
Poltergeist
At night, magic damage will increase
Flower Garden
When near death in battle, INT, DEF, and RES will increase.
Ad blocker interference detected!
Wikia is a free-to-use site that makes money from advertising. We have a modified experience for viewers using ad blockers

Wikia is not accessible if you've made further modifications. Remove the custom ad blocker rule(s) and the page will load as expected.